3D Motion Capture
GEARS
GEARS is a full-swing club- and body-tracking system used by PGA pros, club fitters, and club manufacturers to measure and analyze every nuance of a swing, in FULL 3D, from address to follow-through. Built on the same technology used by biomechanists and filmmakers, GEARS is the most advanced motion capture solution developed specifically for golf.
Schedule your GEARS Session!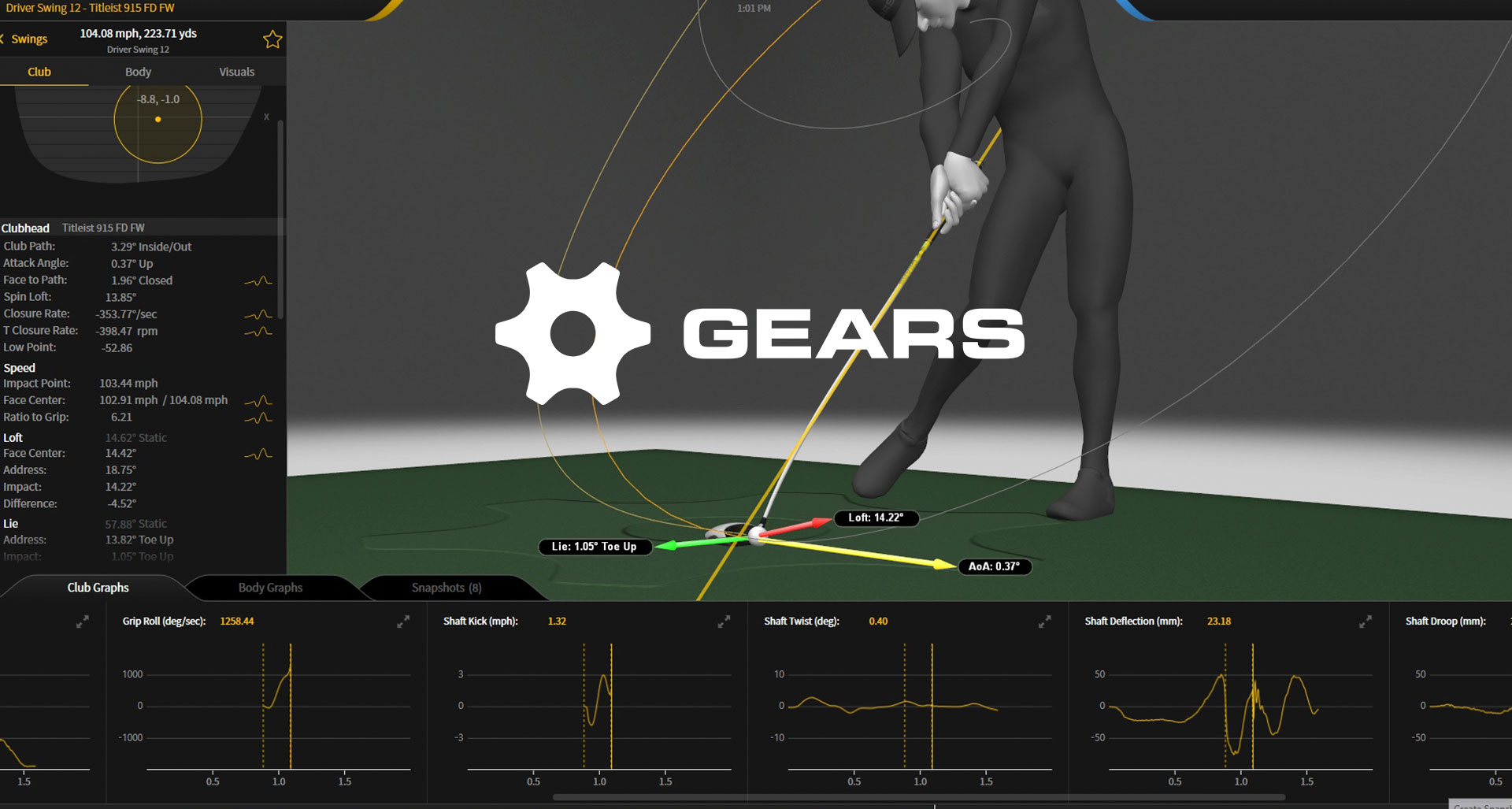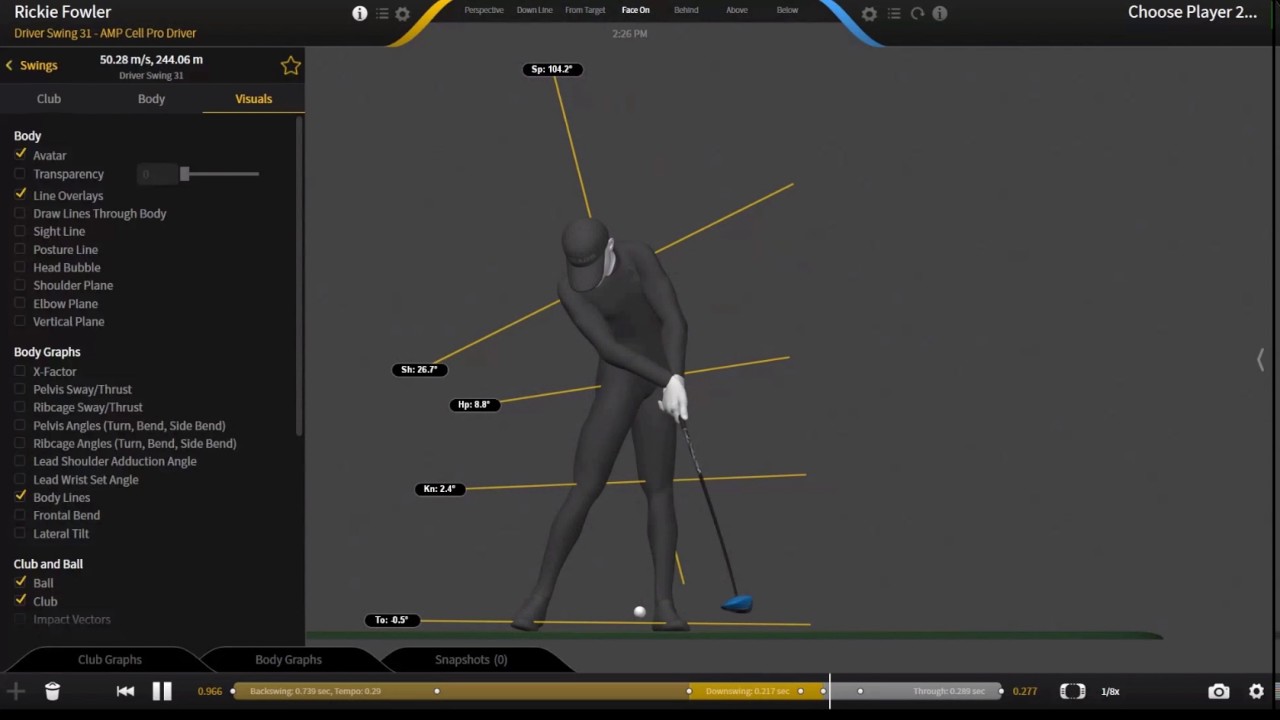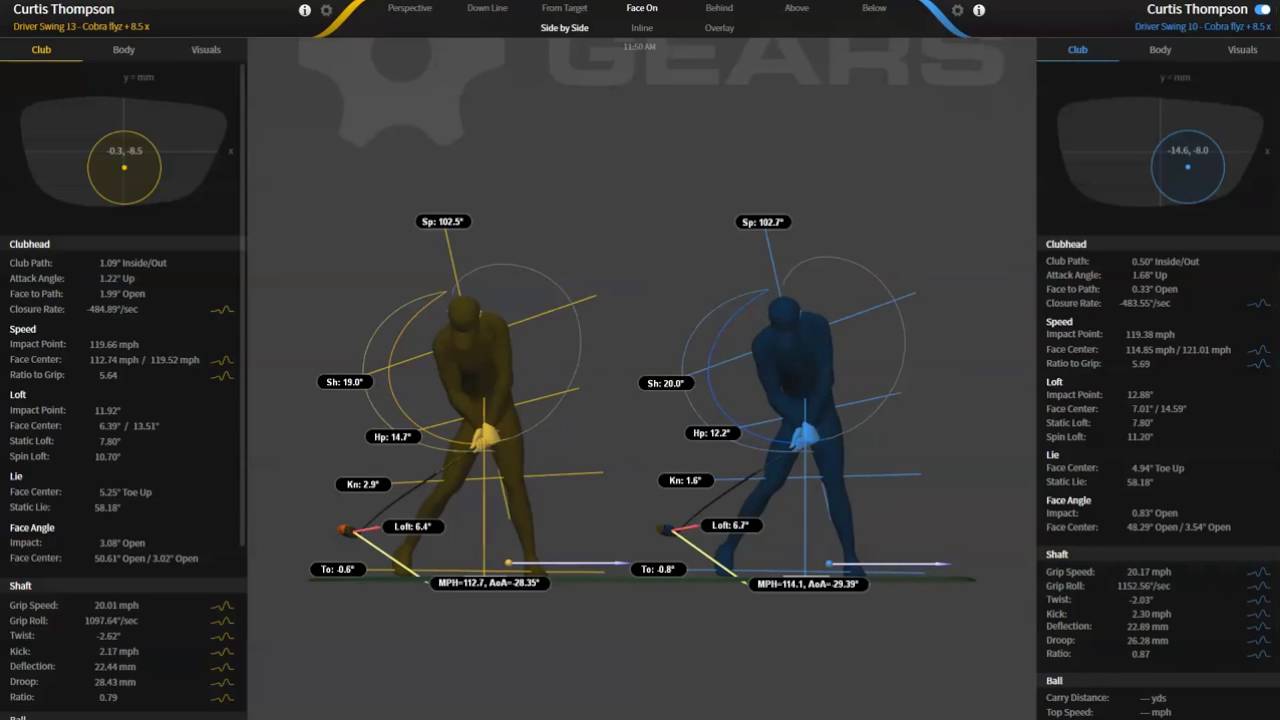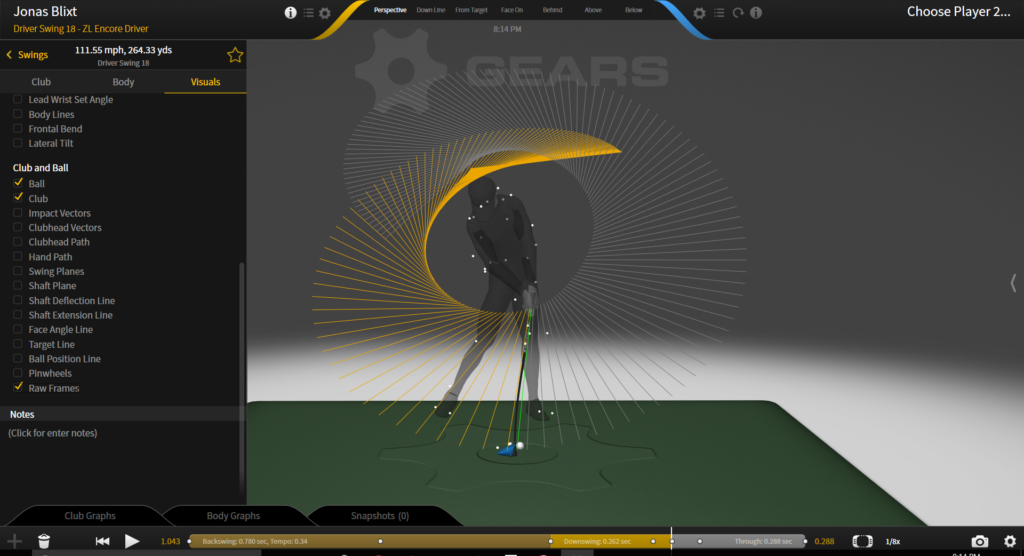 The Leader in 3D Motion Capture
< 0.2mm Accuracy
Through eight high-speed cameras mounted all around the golfer, GEARS can accurately measure over 40 motion capture points to less than 0.2mm of error!
Your game deserves the best!
Most systems rely on low resolution approximations of swing data, with algorithmic estimates filling in the gaps. GEARS provides hard data, actually measuring the entire swing as it unfolds.
Data. Lots of data. GEARS instantly analyzes over 700 3D motion captured images per swing. Between the club and the body, over 40 3D markers are tracked. GEARS provides significant insight into how the club and body move throughout the swing.
GEARS Club Data
Full Swing Path
Impact Location
Clubhead Speed
Deflection Droop
Shaft Deflection
Face Heading
In/Out Path
Loft
Lie
Angle of Attack
GEARS data is used by FlightScope, Trackman, and other launch monitor companies to verify their club data! It's that accurate.
GEARS Body Data
Shoulder Angle
Hip Angle
Knee Angle
Toe Angle
Spine Angle
Major Body Lines
Kinematic Sequence
GEARS also measures things like pelvis or rib translation (lateral and vertical movement) and allows you to compare your swing to any other one in the system: whether that's a previous swing you've made or an LPGA or PGA Tour player's swing.
GEARS Sessions
Available Packages
Ready to "get your game in GEAR?" (Sorry, we're pun fans.) We have a few options available below, or if you'd like to build a custom instructional package to suit your needs, we'll work with you to create a great fitting program for your time and budget.
Note: Golf Evolution Members and Junior Golfers receive discounted rates. Local golfers may also purchase multi-packs of GEARS sessions at a discount. Contact Erik for more details.
1 Hour on GEARS

Full club/body tracking

FlightScope ball tracking available

Sessions last ~75 minutes

Great for the golfer who wants to start or continue his or her journey with full club and body tracking (as desired). Calibration and putting on/taking off the suit and markers can take a few minutes.
2 Hours on GEARS

Full club/body tracking

FlightScope ball tracking available

Sessions last about 2½ hours

Perfect for an in-depth look and exploration of your entire golf swing with full club, body, and ball tracking with ample time to explore what's needed to improve. Includes time for a brief break. If you'd like to focus on something specific, please let us know ahead of time.
Up to 6 Hours on GEARS

8-9 hours of instruction

2-4 hours of practice time

Generally span 2 days

SAM PuttLab report/session included

If you're serious about your game, this will get you in GEAR fast!. Typically spread over two days, instruction includes anything we offer: full swing, driving optimization, short game, AimPoint, SAM PuttLab, wedge/putter fittings, distance wedges, and more.
Please wear tighter fitting shirts, bottoms with belt loops, and a baseball cap when you come for a GEARS session.
The Latest
Technology
"Our investment in GEARS continues the history of bringing the greatest technology to Golf Evolution. From SAM PuttLab to FlightScope launch monitors to SwingCatalyst/BodiTrak, the GEARS system is the latest world-class system we're bringing to Erie, PA."